For pest inspections Toowoomba residents can rely on, trust your local Jim's Pest and Termite Control technician. Being highly experienced, fully trained, and insured, you can have peace of mind knowing that our local technician will be able to identify and eliminate any pest situation.
Call us on 131546 or get a free quote, and your local technician will get back to you shortly
White ants, or termites, are responsible for millions of dollars worth of damage to the structure of buildings across Australia every year. In particular Brisbane, Gold Coast, Ipswich, Sunshine Coast, and the greater Queensland area.
You need to know that this damage is not covered by your household or commercial buildings insurance. More densely populated areas such as Brisbane, Ipswich, and the Gold Coast are at greater risk of termite infestation due to the warmer climate and greater concentration of buildings in these cities.
Whether you need a pre-purchase pest and termite inspection, or you need to get us to find out what's bugging you, Jim's Pest and Termite Control Toowoomba will complete a thorough inspection and give you a detailed report.
Our customers are our number one priority, and we pride ourselves on providing fast, reliable, and honest advice and service. We'll arrange an appointment at a time that suits you to carry out a thorough pest inspection. Once completed, we'll provide you with a comprehensive inspection report, which will allow you to make an informed decision.
So if you're purchasing a property or find yourself with a pest problem in your home or business, or want to make sure your property is protected from any destructive intruders, Jim's can help.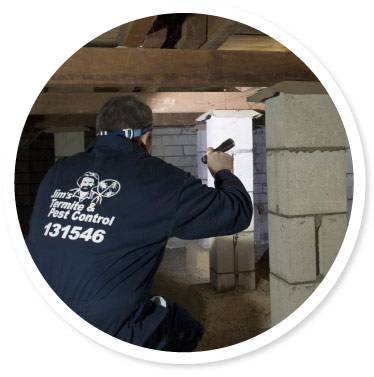 Pest inspections Toowoomba residents can trust
The importance of a thorough pest inspection for your home or business can't be overstated.
At Jim's, we take the time to assess every aspect of your property, inside and out. We look for any areas which are vulnerable to pest or termite attack, identify any signs of pest or termite activity, and we'll advise you of any preventative or remedial work which needs to be undertaken.
It's important to remember that a thorough building and pest inspection will be money well spent when it comes to ensuring the long-term protection of your property from pests. A small investment in an inspection now could potentially save you thousands of dollars in repair costs in the future should a pest or termite infestation take hold.
Pre-purchase building and pest inspections
Buying a house is arguably the biggest purchase most people will ever make. To ensure your most valuable asset is protected, it's vital to get a pre-purchase timber pest inspection report from a qualified pest and termite control expert; allowing you to make an informed decision on whether or not to purchase a property.
At Jim's, we conduct thorough building and pest inspections in the Toowoomba region to help purchasers understand:
Current and previous timber pest activity
Any high-risk or vulnerable areas
Any problems which need to be rectified
Any unseen issues
We will also provide recommendations and quotes for any preventative treatment or remedial work needed.