Jim's are your Toowoomba pest control experts, who are here for you when you need us. Your local technician is highly experienced, fully trained and insured, and will deal with any pest situation quickly and effectively.
Call us on 131546 or get a free quote.
As the largest inland city in Queensland, Toowoomba has been able to retain its country charm while offering locals and visitors alike a vibrant café and art scene. Also known as the Garden City, Toowoomba is not only home to hundreds of parks and gardens, but each September it hosts the nationally renowned Carnival of Flowers.
Nature lovers are spoilt for choice in and around the Toowoomba region, with Ravensbourne National Park located to the northeast of the city. Bushwalkers of all ages and abilities enjoy hiking the many trails which wind their way through diverse habitats, from spectacular rainforests, to towering red cedars. And nearby Crows Nest National Park is a haven for wildlife enthusiasts, with the park being home to platypus, swamp wallabies, echidnas, bandicoots, lace monitors, birds, and the brush-tailed rock wallaby.
With major amenities such as healthcare facilities, shopping centres, restaurants, and schools all within easy reach, Toowoomba is a great place to live for people of all ages. Being such a great place to live surrounded by parks and green spaces, it's no wonder that pests such as termites, spiders, wasps, rodents, and possums all like to call the city home as well. Luckily, if you find yourself with unwanted visitors in your home or business, Jim's is here to help.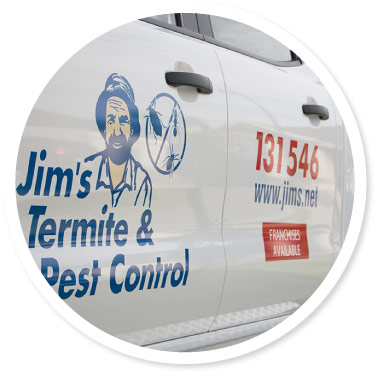 Toowoomba Pest Control by Jim's – the local experts you can rely on
At Jim's, your satisfaction is our number one priority. Which is why our customers appreciate the fact that our local technician will be in contact with you quickly and will arrange to come and inspect your property at a time that suits you.
We understand that every financial situation is different. Once we've completed our initial inspection, we'll do our best to provide you with a range of treatment options to suit your budget.
If you have a pest situation on your hands, or simply want to arrange a pest inspection to ensure your property is protected, you can trust your local Jim's Pest Control Toowoomba technician to provide you with fast, honest, reliable advice and service.
Meet your Toowoomba technician
Daniel Braxton is the Jim's Pest Control technician for Toowoomba and the surrounding areas. As a Toowoomba local himself, Daniel has the knowledge, experience, and understanding of local pest behaviour to deal with a pest situation quickly and effectively.
Daniel prides himself on being able to deliver fast, effective results, leaving you with peace of mind that your pest problem will be gone.
Daniel stresses to all his customers the importance of having regular pest and termite inspections, as he knows that by doing this, it will ultimately save them time, money, and a whole lot of stress in the future.