For pest control Warwick services residents can rely on, look no further than Jim's Pest and Termite Control. Your local technician is experienced in dealing with any pest situation, and is fully trained and insured. Whether you have a pest situation on your hands or simply want to make a booking for preventative maintenance, you can have peace of mind knowing that we're here to help.
Call us on 131546 or get a free quote [link to free quote page] from your local technician.
As local residents know, the balance in Warwick is just right; it's a thriving regional hub, with a relaxed and friendly country-style vibe. The Condamine River, the source of the longest continuous river system in Australia, meanders its way through the many parks and gardens which come alive with an explosion of blooms in the spring and summer months.
Between historic buildings like the Glengallan Homestead, natural wonders like Main Range National Park, or famous sporting events like the Warwick Rodeo, we're lucky to have something for everyone.
It's no wonder that pests such as termites, ants, wasps, spiders, rodents, and possums, all like to call Warwick home as well. Fortunately, Jim's Pest Control is here to help should you find yourself with a pest problem in your home or business.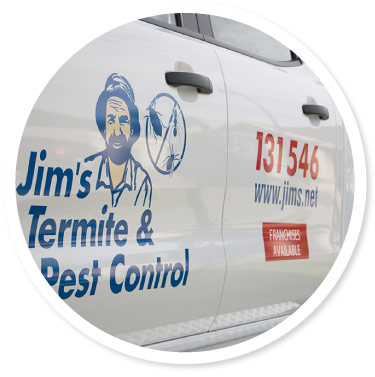 Jim's Pest Control Warwick – your local pest experts
At Jim's Pest Control Warwick, our always customers appreciate our fast, honest, reliable service and advice, and guaranteed results.
Whether you've got a pest situation on your hands, or you simply want to arrange a pest inspection to ensure that your property is protected from any potentially destructive creepy crawlies, Jim's is here to help.
When you contact us, your local technician will quickly get in touch to arrange an appointment at a time that suits you to inspect your issue. If it's an emergency we'll get straight to work, otherwise we'll provide you with a quote and/or discuss our findings with you in detail, so that you can make an informed decision about the best course of action.
Your local Jim's Pest Control expert
Offering friendly, honest advice, and reliable service, Warwick home and business owners can rely on their local Jim's Pest Control technician.
With access to the latest training, pest control techniques, and equipment, you can have peace of mind knowing that your local technician has the knowledge, training, and experience to deal with any pest situation quickly and effectively.
We can't stress enough the importance of having regular pest and termite inspections in your home or business. Making a small investment in an inspection now could save you a whole lot of time, money, and stress in the future by preventing a potentially destructive infestation.