Let Jim's Pest and Termite Control Toowoomba take the hassle out of your end of lease pest control. Your local Jim's technician is highly experienced, fully trained, security checked, and insured.
We can make the whole end of lease pest control process quick, simple, and most importantly, stress-free.
Call Jim's on 131546 or get a free quote from your local technician.
End of lease pest control customised to your rental agreement
In most cases, tenants are required to take care of general pests and fleas for end of lease pest control. Even if pets have been kept outside or have only been on the property for a short period, you may still be required to carry out a pest control treatment. If you're unsure of what your responsibilities are, we recommend you carefully read your rental agreement, speak with the leasing agent, or contact us for assistance.
Lease terms will vary, and at Jim's our local technician will be able to offer you a fully customised interior and exterior service in accordance with your particular rental agreement. We're always committed to being there when you need us, so we'll do our best to work within your required timeframe and schedule.
Why do you need end of lease treatment?
If you've had a dog or a cat on your property for any length of time, chances are you'll be required to have a tick and flea pest control treatment when you leave the property.
Depending on the terms of your rental agreement, you may also require a certificate for a complete general pest treatment, which covers ants, cockroaches, spiders, ticks, and fleas.
These treatments are simply to ensure that pests possibly attracted by your pets cannot pose a health risk to the following tenants.
What's involved in an end of lease pest control treatment?
Depending on what sort of pet you had at the property, the treatment methods and processes can vary. It also depends on what's actually required of you according to your rental agreement.
After an initial inspection to assess the property, our Jim's Pest and Termite Control Toowoomba technician will set up a guaranteed pest treatment program which will control common household pests such as ants, cockroaches, fleas, spiders, silverfish, ticks, and rodents. And, if needed, we'll conduct any follow-up treatments needed to ensure the breeding cycle is broken.
As with all our services, we're more than happy to provide you with a free quote and discuss your treatment options with you during an initial inspection.
When is the best time to get treatment done?
Again, check your rental agreement as this may state when to schedule your end of lease pest control treatment. In many cases, a pest treatment needs to be carried out within 3 days, and sometimes up to 7 days, of you vacating the property.
We understand that between bond cleans, carpet steaming, and arranging removalists, organising an end of lease pest control treatment can seem overwhelming – but it doesn't have to be. Our friendly Toowoomba technician is available 7 days a week, making it as easy and stress-free as possible for you.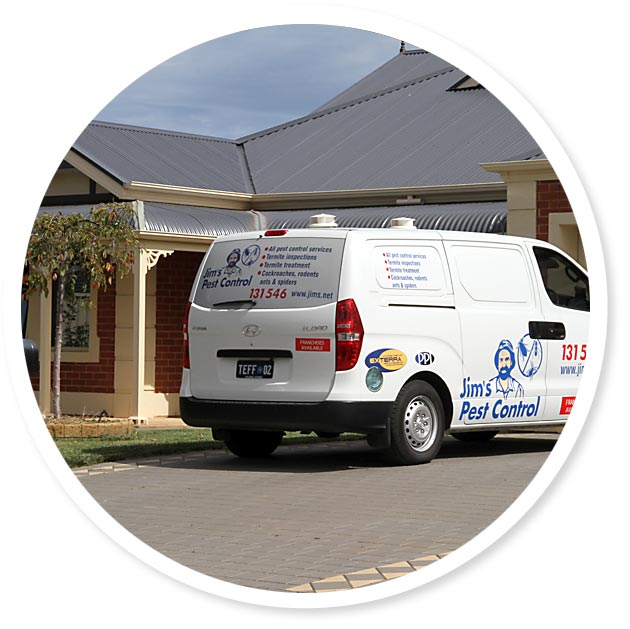 What happens if you don't get it done?
If you don't carry out the required pest control treatments, it could be difficult to get your bond back, it may affect your chances of renting other properties in the future.
Responsibilities?
If you're not sure of your pest control responsibilities, give us a call on 131 546 for assistance. It's important to get it right the first time, as it will help save you money in the long run!
Your local Jim's Pest Control franchisee can offer you a complete interior and exterior tailored service in accordance with your lease terms. We can work in with your moving timeframe and be there when you need us.